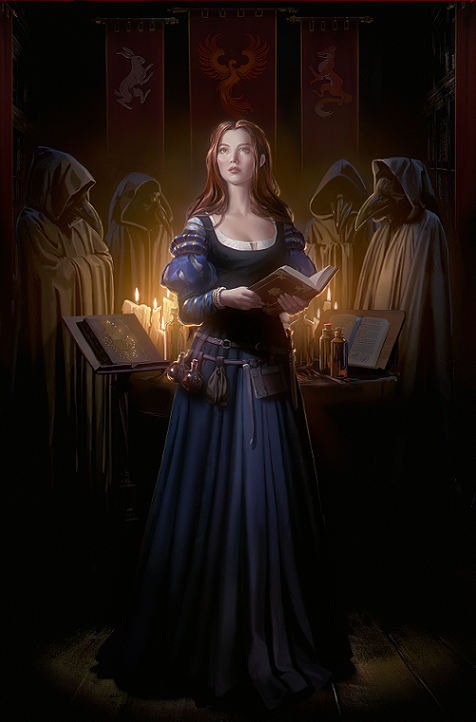 "When the people of Osthelia fall ill, it is to the Alnwick Apothecary Society they turn. Contained inside the guild hall's walls is a wealth of knowledge on herbs and medicines to treat all ailments. However, there are rumors of darker knowledge hidden within - for that which can heal may also kill, and whispers of experiments conducted in partnership with the Sanitarium abound."
Within the confines of the sanitarium, a group of like minded individuals formed the Alnwick Apothecary Society. This group shared their knowledge, pooling its resources to further understand the human body, its weaknesses… and how to overcome them. They researched illnesses, what caused them, and each path one may take to prevent such atrocities from everyday life. Of course they got a nod of approval from Count Andreas Crowley, who occasionally eyes their research to make sure it is at least accurate to a point. From this they used what was available to run tests of their own, finding what plants helped to alleviate some form of ailment - but it never seemed to be just one plant, there also was a need for a catalyst. So they tried brewing the herbs into teas and adding them as spices for meals. But for now, the tests are just beginning.
But that is just on the body. Their research also expands towards the mind and all of its mysteries. The mind of a mann is intricate. Why do some skills stick, while others slip through their fingers? This society is taking it upon themselves to figure out the quirks and coding of the mind. But first, to understand the mind, one must inspect the mind. Some attempts have been made using trephination, as a still living and active brain will reveal more than a cold dead brain from a cadaver. Sometimes it is as simple as to talk through events and letting the afflicted person vent out their inner most demons for the world to judge, though it is just their doctor hearing them out. But not everything ventured is something gained, and there are no rewards without risks despite how subtle it may be…
About Us
The Alnwick Apothecary Society is the primary organization within the County of Osthelia for medical knowledge. It is home to herbalists, apothecaries, and others with broader interests in medical pursuits. While some shut themselves away to conduct experiments and further their research, others travel the county to provide their skills to those who need them. The guild is a place of learning and collaboration whose goal is to provide a conducive environment for medical advancement.
The goal of this organization is twofold: To promote medical avancement through providing resources to those conducting research and to act as a central body for the distribution of medical knowledge and services within the County of Osthelia.
Members must be citizens of the Kingdom of Ashland, the Duchy of Sanctaphandri, and the County of Osthelia. They may reside anywhere in the County, but must travel at least once a year to the guild hall in the city of Avernus to share news, research, and to become re-certified with the guild.